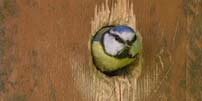 Welcome to The Blue Tits Nest Box Blog of (2012)
On this page you can see pictures from inside the nest box. so you can follow the progress of the birds (REMEMBER) I will only update theses pages when there are birds occupying the nest box.
Page 1 of 1
Friday 5th January 2012-.The nesting season is fast approaching and this weekend I hopefully will be putting up my bird box camera once again with a live web camera feed as usual. At this time of year you can easily be misled into thinking spring has sprung but with the usual British climate it's very much a rollercoaster ride. It's around this time of year that birds start eyeing up potential nesting sites so its very important that you get your nest boxes up as soon as possible. For information about nest boxes and positioning them click here. Don't forget you can talk about the goings on in the box on our messageboard!
More blog updates soon.
---------------------------------------------------------------------------------------------------------------------------------
If you have any questions or suggestions about any of these pages then:-
Please join in and ask in our new Message Board
Or e-mail me